Updated April 26, 2016
The Washington State Department of Ecology (DOE) is making Low Impact Development (LID) a priority in a major way: they are mandating the use of LID technologies for stormwater design and construction across the board.
Every agency in Washington will eventually be affected by this new rule. For those in the development industry, this is something to note and prepare for. Even if you don't currently work in Washington, it is only a matter of time before other states follow Washington's lead, so this will impact you at some point.
This change may be unsettling to some, but I think it is a good thing so long as appropriate flexibility is built into the codes. I have worked on a variety of projects that incorporated LID measures, and based on my experience I wrote a blog post last year that debunked some common LID myths. LID isn't right for every situation (important questions include where will the water go and could excess groundwater negatively impact maintenance?), but the benefits are substantial where it is the right fit. LID stormwater design is typically more aesthetically pleasing, can be integrated into a site landscape scheme, and stormwater runoff will better mimic the natural stormwater processes.
LID can mean a lot of different things to people, so before discussing when the standards take effect, I would like to provide a brief LID overview.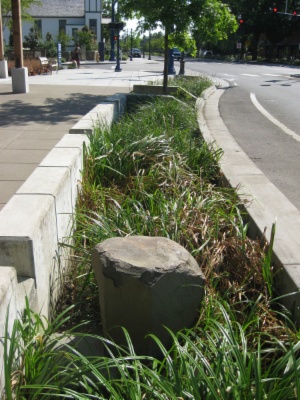 What are LID Practices?
In engineering language, LID best management practices (BMPs) are distributed stormwater management practices, integrated into a project's design, that emphasize pre-disturbance hydrologic processes of infiltration, filtration, storage, evaporation and transpiration. Put in plain language, LID (sometimes referred to as Green Infrastructure) is an attempt to mimic how nature treats and disposes of stormwater runoff.
Typical LID BMPs include, but are not limited to, bioretention / rain gardens, permeable pavements, roof downspout controls, dispersion, soil quality and depth, minimal excavation foundations, vegetated roofs and water reuse. My colleague Lisa Stenberg wrote about a case study from the City of Puyallup that included a variety of these LID BMPs.
For example, imagine a vacant property with moderately-drained soil. A good portion of the water that hits the site is absorbed into the soil and eventually recharges the groundwater. Imagine that property is developed and covered with impervious asphalt and buildings, and all the runoff is directed to a pond near one of the property corners and discharged into a storm sewer system. That is a standard way to deal with stormwater, but it does not mimic natural processes and can have unintended consequences for the water table.
Now imagine that same site being developed while incorporating an LID feature such as pervious asphalt, allowing water to filter through to the soil beneath. Essentially the entire parking lot becomes a storm facility and mimics the natural condition. That is what LID is all about.
What is DOE Mandating and When does it take Effect?
DOE's new rule requires each jurisdiction in Washington State to fully implement LID site requirements into their stormwater ordinances and development codes. This new requirement takes effect in phases over the course of the next few years. Phase I cities and counties have already codified these standards. Phase I includes:
Clark, King, Pierce, and Snohomish Counties

Cities of Seattle and Tacoma

Port of Seattle

Port of Tacoma

University of Washington, Seattle

Seattle School District

Metropolitan Park District of Tacoma

Washington State Military Department

Tacoma Community College

Washington State Department of Corrections: Larch Corrections Center

Washington Corrections Center for Women
For the rest of the state, the implementation deadlines are as follows:
December 31, 2016: Most Phase II Western Washington municipalities

June 30, 2017: Cities of Kelso, Longview, and Centralia and Cowlitz County

December 31, 2017: Eastern Washington municipalities (LIDs must be provided as an allowable stormwater management technique)

June 30, 2018: City of Aberdeen
As you can see, LID requirements are coming to a code near you. Whether you work in Washington or not, I suggest learning more about the different options available to you and which best apply to different types of sites. That way you will be prepared to comply when the standards hit in your area. Getting ahead of the curve is always your best option.
How do you feel about LID measures in general, and have you ever implemented them into one of your projects? Please leave a comment below or send me an email to let me know.