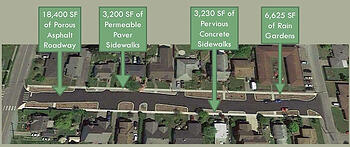 Updated June 10, 2016
The use of Low Impact Development (LID) techniques for treating and disposing of stormwater is gaining popularity. However, many people remain hesitant to implement LID. Questions persist about LID performance, maintenance, and costs because many of these questions can only be answered through experience and firsthand implementation. It's a circular process where only a few venture to use LID because of the uncertainties. However, the unknowns that deter others can only be resolved through greater use of LID techniques.
The City of Puyallup, WA is trying to break this cycle. Programs like Puyallup's Rain Garden Program and Get Disconnected demonstrate the City's commitment to finding new, innovative ways of managing stormwater. In 2014, myself and a few other MacKay Sposito staff had the privilege of seeing firsthand several successfully implemented LID technologies. City of Puyallup staff were able to showcase several projects and provided insights into the performance and maintenance costs of installed LID solutions.
Puyallup's showcase project is a 660 linear foot green street on 8th Ave NW between 11th St NW and 9th St NW. This site is unique because it utilizes several different LID improvements at the same site. The residential street includes a porous asphalt roadway, one pervious concrete sidewalk, one permeable paver sidewalk, and rain gardens both in the right-of-way and on private property. Using all these LID technologies simultaneously isn't typical, but that is what makes it so valuable – it provides a setting to analyze several different technologies and compare function and performance on an equal footing.
Project Background
The project was initiated by local residents and funded by an Ecology Stormwater Grant and Puyallup Stormwater funds. The primary reason that Puyallup received the Ecology grant is because the City partnered with the residents through signed agreements to maintain the rain gardens both in and outside of the right-of-way. Throughout the entire project, the public and the residents of this neighborhood were very involved. Over 90 people donated their time planting more than 2,500 plants in the rain gardens during a volunteer event in March 2013.
In the end, the project came in under budget at $408,000, or $65/LF. Utilizing the City's construction management team and volunteers helped to significantly reduce costs (the plant installation was not included in the project cost). Additionally, using volunteers helped with stormwater education and public involvement.
Project Highlights
The site has been fully constructed for years. During this time, Puyallup has observed and gained valuable information about the implemented LID technologies. Overall, the feedback from both the private citizens and City Operation and Maintence crews has been extremely positive. One surprising insight is that porous pavements are significantly quieter than traditional pavements. Residents really enjoy this feature, and now the City is considering using porous asphalt on outdoor sports courts such as basketball and tennis courts to help with drainage and noise issues.
All of the LID technologies used at this site are performing at or above design levels and none have overflowed or clogged. This can be partly attributed to the fact that none of the porous pavements or rain gardens receive runoff from other parts of the site, so they infiltrate only what rains on them, but it can also be attributed to correct design and construction. Porous asphalt proved to be the lowest cost option for permeable pavement (other options would be concrete street pavers or porous concrete). Permeable pavers were the most expensive LID pavement option, but residents moderately preferred the permeable paver sidewalk over the pervious concrete sidewalk .
The roadway is narrower than a typical residential road, reducing the amount of street pavement; as a result, on street parking is allowed on only one side of the street. The narrower road, slightly curvilinear roadway alignment and increased aesthetics from the rain gardens provide traffic calming features for the site. Drivers no longer speed down this road, providing an additional benefit of integrating the LID features into the roadway.
The most positive feedback has come from the City's maintenance crews. The roadway was designed to not have an underdrain, eliminating the need for any storm catch basins, and eliminating the need for storm drain maintenance. Although in this project the curbs are flush with the roadway, the City recommends using curbs with curb cuts adjacent to roadside rain gardens to guide maintenance vacuum sweepers and alert drivers of the roadway extents at night.
Lessons Learned
The most important lesson learned from this site and other LID sites around Puyallup is that correct installation of porous asphalt is extremely important to preserve its structural integrity over time. Since porous pavement is still relatively new, incorrect installation is fairly common; one of the failure modes resulting from poor installation is settling of the base layers and increased surface raveling. As porous asphalt becomes more common, contractors and construction crews will become more experienced and fewer problems will result from poor installation practices.
Correct installation is really important with rain gardens, too. The rain gardens should not be over-planted since this causes crowding of plants once they have matured and increases maintenance labor. In privately maintained rain gardens, a few residents will invariably fall behind on their duties. Agencies may elect to offer a program that helps residents maintain their rain gardens – perhaps by providing weeding or trimming services once a year as needed to retain the baseline functionality of the rain garden.
By boldly implementing LID practices in spite of uncertainties, the City of Puyallup has been rewarded with a popular and successful neighborhood roadway project and collectively gained valuable knowledge about LID systems. I'm excited to see how the City's green street on 8th Ave NW performs over a longer period of time, and how each technology will weather in comparison to one another. Through projects like this, we all can learn the ins and outs of LID techniques and how to better apply them to future projects. Although LID is not suitable for all conditions or locations, if it is applied correctly it can provide many benefits for stormwater mitigation, reduced maintenance, and increased aesthetics of the site.
I'd love to hear your thoughts on Low Impact Development. You can comment here or contact me via phone or email.
Photo credit: City of Puyallup