Whenever possible, we choose Low Impact Development or "Green Infrastructure" approaches for our transportation, land development, and site development design projects. We love "Green Infrastructure" solutions and think you should too!
What is Low Impact Development (LID)?
It is a design approach for roadway construction (or reconstruction) and land or site development (or redevelopment) that limits stormwater runoff and manages remaining stormwater as close to its source as possible. These solutions use natural features and processes to transport and treat runoff. Broadly, it's a design approach that integrates sustainable practices, maintains clean waters, and protects our environment.
Green Infrastructure and Low Impact Development practices include preserving natural landscape features, minimizing effective impervious areas, and integrating stormwater solutions into visually appealing final site elements. Specific design elements used to achieve Green Infrastructure goals include permeable pavement, rain gardens, vegetated rooftops, and bio-retention swales and ponds. Other site choices such as building location and orientation also help achieve Green Infrastructure goals.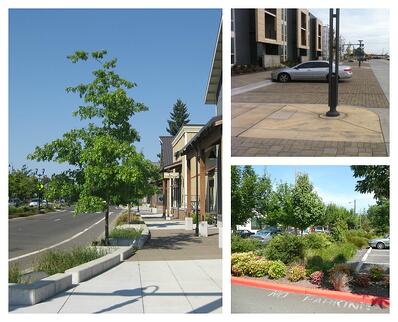 Photos: Stormwater Planter in Portland, Permeable Pavers, and Roadside Swale
Those who adopt these approaches benefit by:
Reducing the amount of PVC or other unsustainable or even toxic construction materials

Creating habitat and supporting wildlife

Minimizing the urban heat island impacts and ground level ozone by cooling air temperatures

Cutting capital costs by reducing environmental impacts, long term maintenance, and infrastructure costs

Controlling flooding and providing lower stormwater discharges and pollutant loads

Increasing property values

Reducing building heating and cooling costs (by sighting a building to take advantage of passive solar benefits)
So, what is a real application?
Good site design might include locating buildings and parking structures in a way that maximizes surface drainage to bio swales, filtration strips, or rain gardens to treat heavy metals and pollutants with natural systems. In this example, plant materials and soils work together to remove pollutants and infiltrate treated water as a water source for plant materials. At the same time, these natural stormwater treatments create habitat and provide aesthetic value for your project.
Implementing green infrastructure on your next project isn't as scary as it might sound. Simple, sustainable, yet elegant designs can be achieved with no real additional design or engineering costs.
Over the next several weeks and months we'll talk more about how simple Green Infrastructure and Low Impact Development practice can improve your transportation, site, or land development project and reduce project costs. We hope you stay tuned.
Now that you know a little more about green infrastructure how do you plan on using these ideas in your next project?