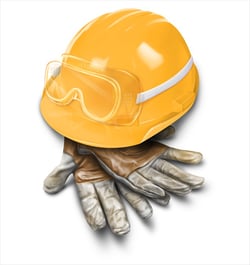 Raleigh Scaffolding Collapse Kills 3 Construction Workers
Three construction workers were killed and another seriously injured late Monday morning when an exterior lift system tore from the side of an office building under construction in downtown Raleigh.
A witness, LeRoy Kelley, said workers were dismantling a "mast climber" on the 11-story Charter Square Building on Fayetteville Street when the elevator-like system collapsed, sending a mobile scaffolding platform to the ground.
Officials with the state's Occupational Safety and Health Division took control of the Charter Square site, halting construction.
From The News & Observer, Wake County, N.C. - March 23, 2015
Everyone in the construction realm gets chills when they read a story like this. Most construction projects are completed smoothly, but then this type of incident occurs and reminds us just how dangerous construction is. With prime construction season kicking off, it's the perfect time to take a fresh look at safety.
Safety gets a lot of attention during construction, but a culture of safety begins well before construction. One critical pre-construction component is the Job Site Safety Management Plan. This plan lays the foundation for the entire safety program throughout construction. A thorough and well-written Job Site Safety Management Plan is your first line of defense against a construction incident.
But having a strong Job Site Safety Management Plan isn't enough, of course. If it doesn't translate to the construction site, the plan is nothing more than words on a page.
Here are some tips for determining if the intent of the Job Site Safety Management Plan has made it from the page to the field:
Each morning should start off with a constructive on-site safety discussion - the so-called tailgate safety briefing. Last year I discussed the importance of tailgate safety meetings in the blog post 10 Tips to Ensure Effective On-Site Safety Discussions. Tailgate safety meetings are a great means to teach best safety practices, share lessons learned, and make your team aware of potential hazards on the job.

The crew members work in a safe manner even when the Safety Officer or other authority is not around. For example, field personnel should not have to be constantly reminded to wear the proper personal protective equipment (PPE).

Equipment and associated safeguard protection should be in good working order at all times. If something breaks, the job superintendent should be quick to repair or replace the item(s).

The job superintendent has no fear of a surprise OSHA inspection.

Safety training should be evident throughout the project. Just because construction is active doesn't mean formal training stops.

Consequences for safety violations are clear and enforced. The consequences should be harsh enough to discourage future infractions. Construction sites contain many hazards and should not be taken lightly.

Incentives are provided to reward a culture of safety on the project site. Special recognition for employees such as jackets, gift cards, personalized tools or other forms of gifts help keep safety on everyone's mind.

Safety is never disregarded in order to save time. It can be tempting to cut corners when a contract milestone or an extended holiday is approaching. Better a day late than for someone to get injured or killed while in a rush.
If your contractor does not meet these ideals, corrective actions may include increased on-site meetings to specifically address the problems, amending the Job Site Safety Management Plan (it may not be an appropriate fit for the project), increased project oversight, or removing problem employee(s) from the job site. As a last resort, blatant infractions could require a work stoppage, which is extremely costly to the Contractor. No one ever wants to stop work, but when it jeopardizes worker safety, you can't put a price on human life.
The recent fatal accident in Raleigh, N.C. reminds us how dangerous our work really is. A culture of safety begins with the foundation of a strong Job Site Safety Management Plan and ensuring it is implemented on the construction site. As we've seen, it's not an exaggeration to say lives are at stake.
What other things do you look for on your job sites to ensure a strong culture of safety? Please leave a comment below.