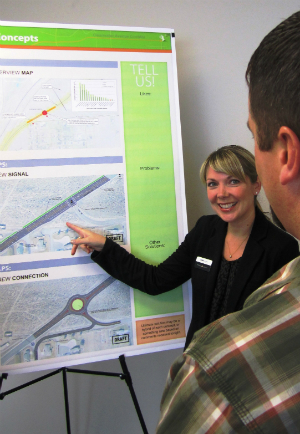 Public involvement at its core means to involve the public. Public involvement is really about creating a connection, listening and responding. The challenge is that creating connections is as different as each of us. It cannot possibly be a one size fits all approach. It is simply not a checklist with tasks. It is about people with different perspectives, different experiences, different opinions. The most talented and skilled Public Involvement communicators are chameleons. They can juggle the needs of many, with an extensive toolbox at their ready.

Let me introduce you to Oscar. Oscar owns a garage. A dream he and his wife, Isabelle, made a reality forty-five years ago. Over the years, Oscar has seen his business grow as the community has swelled. He has also seen his business recede as the economy struggles.

Oscar is a community man. His business has been known to sponsor the heart and soul of his community from little league teams to Boy Scout derby's, and more. Oscar is a proud man. He is a mechanic at heart, most comfortable with grease on his clothes and oil on his hands. He has created jobs and seen families flourish as a result of his business. But, Oscar is also a shy man. He sees no need for the internet, sees no need for a cell phone. He opens all his mail, everyday.

When his City began to study the traffic and safety challenges along the busy highway that his garage fronts, he wasn't concerned. He doubted the changes the City was considering would impact him. Oscar was repeatedly invited to share his feedback but again, didn't see a need. To connect with Oscar he needed someone who understood what his business meant to him. He needed someone to ask him about what he had seen over the past 45 years on this roadway. He needed someone interested in the insight he had to offer on his time, at his place. Someone to listen, to hear what he said and to promise to respond.

Oscar may not be the typical resident but he represents many members of the public. A direct mail post card, a project website, a social media campaign, and an Open House probably won't get Oscar's attention. A visit to Oscar's garage, a tour of his business, a meeting with his employees would.
As a public involvement lead it is your responsibility to understand which tool in your toolbox is meant for which stakeholder. You may need to employ all of your tools to reach the multitude of stakeholders. But, imagine Oscar at the City Council meeting where you are planning to see your project approved. He is standing in front of his neighbors, his friends. He tells them of his experiences, his challenges with the project. Are you armed with statistics about how many postcards you sent him and how many Open Houses you hosted? Will that matter? Those tools mean nothing to the Council who will likely ask that Oscar's perspective be incorporated in the plan prior to adoption. We can let Oscar make his way to the City Council without hearing from him first. We caught him at his business, on his time. We heard his perspective and we incorporated it into the plan.
Public involvement is simply not a checklist and if it treated as such, don't bother. The public can smell the disingenuous approach one makes when trying to complete a task rather than engage a neighbor. Public involvement is about connecting. Take the time to meet the people that make up the community, and the City or County, you are serving. Meet men like Oscar and I'll bet you may learn something.
Every project is different, but we would like to offer you some universal tips that will help your project achieve better success with your stakeholders. Over the next few months, we will be sharing Public Involvement tips that will offer insight and suggestions to create and add to your Public Involvement toolbox. It's all a part of our Roads 2.0 Program. Sign up now to make sure you don't miss out!