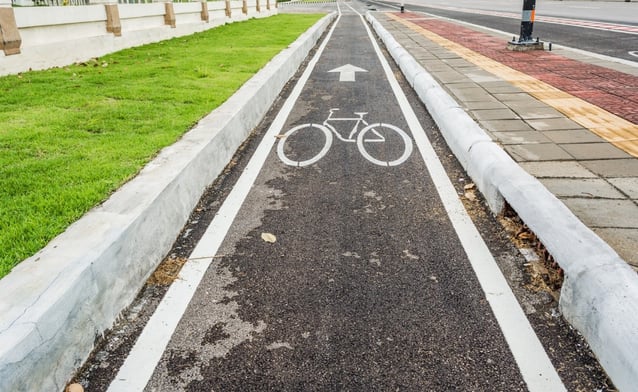 This post is the first in a three-part series covering a new alternative being considered for street sections, the separated bike lane. This post will cover the basic concepts and options for how bike lanes can be separated. Future posts will cover the challenges and opportunities related to Low Impact Development (LID) Stormwater and Protected (Dutch) Intersection design.
Several years back I was walking down a newly-constructed street and, as a transportation engineer, found myself assessing its design. This particular street was a three-lane roadway with bike lanes and separated sidewalks – a typical modern street section.
As I walked I reflected on the evolution of our urban roadways. For years our streets were built with only one user in mind – the automobile – and our street designs reflected that by providing many lanes and little else. Over time we saw the errors in our ways and began to shift from an autocentric focus to a Complete Street design that benefits all users. First came the addition of roadway shoulders, then sidewalks. Next, bike lanes were added between the roadway and sidewalk, and finally the sidewalks were separated from the roadway, providing a safer and more comfortable walking area that was buffered from the roadway.
I found myself wondering what comes next. It didn't take long to see the answer: the next logical step in our roadway evolution is to separate our bike lanes from the street. And it's already happening.
Over the last year I have seen this become a reality and have worked on several projects using a variety of methods to separate the bike lanes from the roadway. This shift is being driven by the Complete Street philosophy. While the separated bike lane concept is new and may cause some hesitation, it pays to learn more because this is where our street design is headed. I have seen through outreach with the public, local agencies, and cycling advocates that there is growing support. More important, it provides a great benefit to its users and our communities in whole.
Based on my experience, there are three main ways to separate bikes from our roadways both horizontally and vertically:
Buffered Bike Lanes (Horizontal Shift)
The most common way to buffer a bike lane is with the addition of a wider paint stripe between the roadway and bike lane, typically 2-ft. The bike lane remains part of the roadway section but is given additional space from the vehicle lanes. This buffer can also include intermittent curbs, traffic control cones, parking aisles, and other forms of barriers. At intersections buffered bike lanes function as a typical bike lane has in the past.
Buffered Bike Lanes: Broadway Street in Seattle, WA (Source: Google Maps)
Raised Bike Lanes (Vertical Shift)
This option, also known as a cycle track, provides separation by elevating the bike lane and adding a mountable curb between the roadway and bike lane. Cycle tracks in general still function as an extension of the roadway system, and as such local jurisdictions often require them to be constructed for traffic loading, creating a thicker and more expensive bike lane. Raised bike lanes are typically discontinued at intersections because of the grade differences.
Raised Bike Lanes: SW Multnomah Blvd. in Portland, OR (Source: Google Maps)
Protected Bike Lanes
This approach provides a landscaped buffer or median between the bike lanes and car lanes, which allows the bike lane to become its own independent facility. Protected bike lanes are always horizontally separated, and they can also be vertically separated to make them level with the sidewalk. Since the bike lane is no longer accessible to cars, a shallower section, similar to a sidewalk, can be used. Protected bike lanes can be accommodated at intersections, and mid-block crossings can be provided without adding much additional weaving for users.
Separated Bike Lanes: Vassar Street in Cambridge, MA (Source: Google Maps)
All of these options are a great improvement to the typical bike lanes you find on roadways today. They provide spaces that are more comfortable and safer for cyclists (and drivers) and move our roadways towards a Complete Streets design. As more communities adopt and implement their own Complete Street Policies, expect to see many more examples of this evolution in how we handle bike lanes.
Watch for the next post in this series, which will cover some of the LID stormwater benefits of separated bike lanes.
What do you think about separating bike lanes from vehicular lanes? Leave a comment below and let me know what you think the next step in street evolution will be.