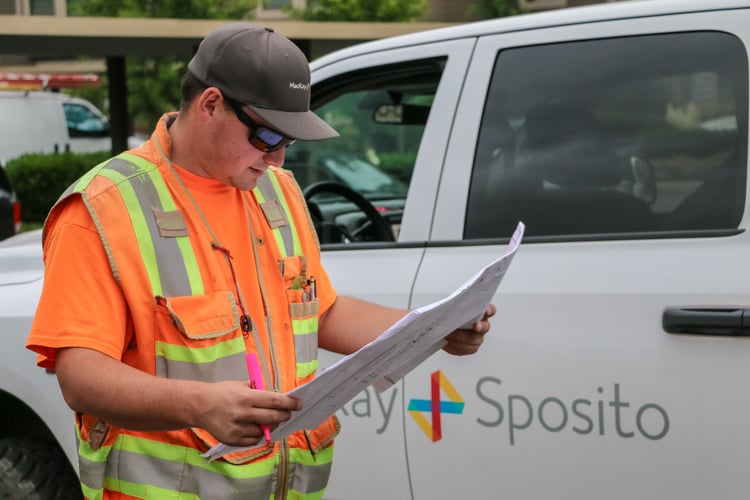 Increasingly, our gas pipeline clients are charged with developing more gas line infrastructure with less; less time and less money. Ground penetrating radar (GPR) can be a useful technology to inform your design process, save costs, shorten timelines, and reduce construction risks. In the right situations, this technology can minimize the alternative, time consuming, and expensive practice of potholing to confirm existing utilities.
How do we ensure the accuracy of utility marks for critical design? What about unknown utilities? What are the implications if the utility mark isn't accurate, but is relied on for critical design? These questions are important for the success of a project. One solution to the first question is to pothole. A pothole simply exposes the utility so direct measurements can be taken. Utility data can be collected to confirm the depth, size, position, and type of utility. Although highly accurate, potholing is costly not only in dollars, but also in scheduling delays.
What if the utility locate mark is inaccurate? How much is an empty pothole going to cost? The valuation of services always depends on many factors, but generally each pothole can cost between $1,000 and $1,500. As you can imagine, digging in the wrong spot can add up quickly.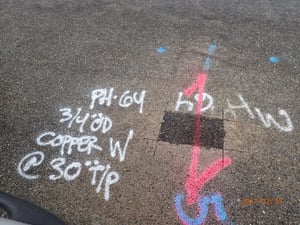 The use of Ground Penetrating Radar (GPR) to identify underground utilities could save significant time and money over the practice of potholing. To the left is a photograph depicting a GPR locate mark (pink) confirming a traditional utility locate mark. In this scenario, time and money were well spent to confirm this utility crossing before potholing.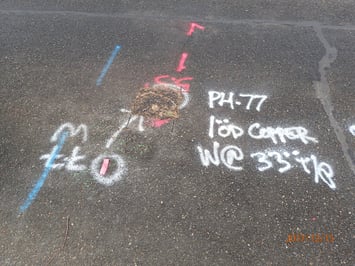 But what if the GPR mark doesn't agree with the utility locate mark? To the left is a photograph showing this exact scenario. If the utility service was potholed at the utility locate mark, would it have been found?
Due to the cost of potholes and the long process of getting the results back, engineers identify the potholes only at critical crossing locations along the alignment. In many cases, the design then needs to be updated based on the pothole results, which may cause delays and inefficiencies in the design progress. Once the design alignment is updated, additional potholing may still be required until a point at which the design team decides to leave some risk for the construction phase.
In contrast, ground penetrating radar can be a cost effective method of confirming utility locations, with a high degree of accuracy, prior to design. Ground penetrating radar can even be used in tandem with potholing to ensure there is a positive utility identification the first time. You will rest easy knowing that your designer has the information needed to make sound alignment decisions AND that you will avoid the typical utility conflicts so prevalent during construction.
Have you had success (or challenges) utilizing ground penetrating radar to support your gas line design efforts? If so, I'd enjoy hearing from you at cdopp@mackaysposito.com.