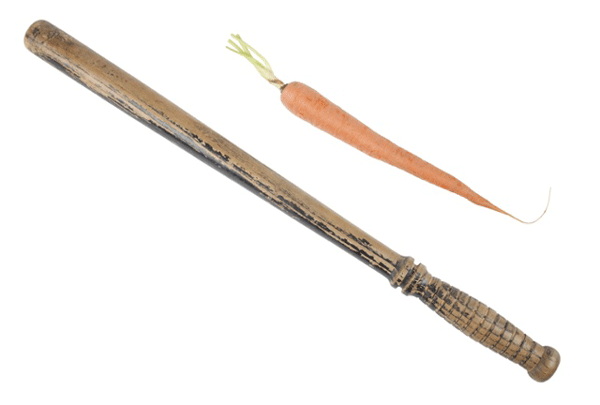 As a project owner or manager, you need certain types of information from the contractor to ensure your project is on track. Too often, though, the contractor doesn't provide the information you need in a timely fashion (if at all). Before you know it, the project can be off schedule and out of budget. How can you avoid getting caught in this situation?
One thing that motivates every contractor is getting paid, so use that to your advantage. Contractor payment provides you with strong leverage because it can be used as either the carrot or the stick. When used as the carrot, the contractor is encouraged to submit everything correctly the first time in order to receive prompt payment. If they fail to submit the necessary information, you can use it as the stick by withholding payment until the information is provided.
The key is a well-written contract, which is always your greatest ally.
Require an Invoice Package in the Contract
Generally speaking, the easiest way to ensure a contractor submits necessary project documentation is to tie those documents into a contractually-required invoice package. In order to be paid each month, the contractor must submit the entire package. The contract should contain language like this: "It is understood and agreed that if Contractor's pay request package is inaccurate, incomplete, or lacks any required supporting documents, the request shall not constitute a valid request for payment." This gives you the leverage to reject the request without getting sideways with your state's prompt payment laws (refer to my earlier post on knowing the risks associated with withholding payments).
What to Require in the Invoice Package
Beyond the basic monthly invoice, detailed breakdown of pay items, and retainage per the contract, what else should you require in the invoice package? The following list is a good starting point:
Any specific documentation or report formatting required by your backend office for processing payment. For example, if your project spans multiple taxing districts that need separate reporting, require the invoice breakdown to accommodate this need. If you don't require it in the contract, you may have difficulty getting the contractor to produce the documentation in the format needed.
If cash flow over time is a concern, consider an updated Schedule of Forecasted Progress Payments each month. Another option is to include a Milestone Payment Schedule based upon discrete portions of the work, which limits the maximum amount payable to the contractor for any given period of time.
An updated project schedule (preferably a CPM-type schedule) and a recovery schedule if the contractor falls behind. This item is, unfortunately, often not required in the monthly invoice package. Contractors that fall behind are generally reluctant to share schedule information that could condemn them until they have something positive to share. The trouble, of course, is the longer the delay in corrective action, the more significant the problems later on for both parties. Pairing the requirement for a recovery schedule with contract language allowing the owner to withhold funds if the contractor cannot reasonably complete the project by the substantial completion date is a potent tool for managing the schedule.
Status of long-lead items such as materials, equipment, engineering, and contractor-acquired permits. It's best if these are identified in the proposal so there is no dispute over which items are considered significant enough to be included on this list.
Partial Release and Waiver of Liens and Claims for work covered during the period. Statutory rules vary from state to state, so be sure your release forms are appropriate for your project's location.
A catch-all. An example of a catch-all clause is, "Any additional project-specific reporting reasonably requested by Owner." Building this flexibility into the contract is always a good idea because circumstances can change.
A thorough, contractually based invoice package, gives you both a carrot and a stick to ensure project documentation is submitted in a timely fashion. Taking time to build these protections into your contracts is a great step towards ensuring your projects will be properly managed.
Do you use contractor payment as leverage on your projects? What contractual clauses do you include to do so? I'm interested to hear about your experiences.
Image credit: Adobe/leschnyhan