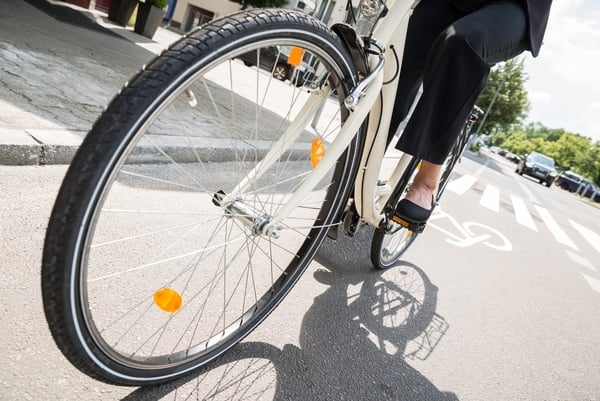 If you're thinking about adopting a Complete Streets Policy, it's a good idea to talk with someone who has been through the process. The City of Battle Ground, Washington was recognized as having the tenth best policy in the nation in 2015 by Smart Growth America. I recently sat down with Scott Sawyer, the Public Works Director at the City of Battle Ground, to discuss his experience.
Q: What was it that spurred the City of Battle Ground to adopt a Complete Streets Policy?
A: The initial conversations were started by Clark County Public Health. There was already strong buy-in to the principles and ideas of Complete Streets by stakeholders in the City of Battle Ground. Both our code and standards were largely in line with Smart Growth America. It turned out to be a fairly small lift to adopt with a large benefit – additional points scored when competing for Washington State Transportation Improvement Board funding.
Q: What was the overall timeline of the process?
A: The first step was an assessment of where we were at, which took place in August 2013. Our Complete Streets Policy was adopted in March 2015.
Q: What was the biggest challenge of the process?
A: Although there was buy-in to the Complete Streets philosophy, there was concern from some stakeholders that we would be giving up control of how things were implemented by adopting a policy. We had to make sure everyone was comfortable with how the policy was crafted and that we were still able to implement things in the way that works best for our community.
Q: What aspects of Complete Streets are most important to your community?
A: Making sure the connection is made for our community members from their homes to parks, schools, and other destinations.
Q: What is the best piece of advice you have for those considering implementing a Complete Streets Policy?
A: Be sure to reach out and find those resources that are available to assist. Your county public health is a great place to start; aside from knowledge, they may also have grant funding in place to assist the process of implementing a policy. Smart Growth America also has a lot of information available. You shouldn't be reinventing the wheel.
Complete streets have many benefits. When designed appropriately, they increase safety. They serve a wide range of users and encourage greater use of alternative transportation methods like cycling and walking, which enhances public health. They can also help your agency secure more project funding. And most important, it's where transportation design is headed.
Has your agency implemented a Complete Streets Policy? If so, what tips can you add?