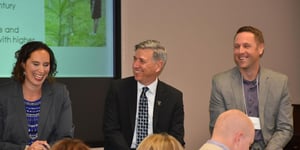 Last week, the Vancouver School District hosted an iTech Preparatory design symposium with students, faculty, and community members. iTech Prep is a major asset to Southwest Washington because it is a STEM school for both middle schoolers and high schoolers. The challenge is the iTech school is split...Middle School is located separate from the High School. Thus, the need for a design symposium to determine how to solve this issue and what the students need.
I was invited to participate in a panel discussion with WSU Chancellor, Mel Netzhammer and CREDC President, Mike Bomar. Superintendent Steve Webb used words like "innovative" and "adaptive" to describe STEM students. He shared the iTech Preparatory model of projects, problems, and practice based strategies. The iTech principal, shared this impressive quote: "Innovation drives thinking, thinking drives results." The students at iTech have proven this as you read the long list of accomplishments and accolades this school has earned.
The facilitator asked each of us tough questions such as what are the expectations of higher education and the industry for individuals pursuing a STEM degree or career, how is SW WA preparing to attract and retain STEM graduates and workers, what societal attitudes are most beneficial for individuals pursuing STEM degrees and STEM careers, and how can we help STEM learners become confident learners?
I shared our commitment to innovation. Turns out not only do we have a drone...so does iTech Prep! I shared how our land surveyors celebrate their profession by giving back through the Clark College Surveying and Geomatics program, the TWIST program and Trig-Star. I also shared how challenging it is to recruit for STEM careers. Interestingly, I received an article from the Society of Human Resources Management that listed the top 10 toughest jobs to hire for in 2016....of those 4 were STEM positions.
As I prepared to address the 100 or so attendees in the days prior to the symposium, I was reminded of the great work my co-workers at MacKay Sposito do every day! From infrastructure design to innovation, our team is made up of STEM leaders. Careers in STEM are important and even more critical today than ever before.
I shared at the symposium the need for society to recognize the problem solvers, the engineers, surveyors and construction managers that ensure the backbone of our infrastructure connects us, keeps the lights on, ensure our water is clean and so much more. It is our responsibility to celebrate the accomplishments of our STEM leaders solving today's and tomorrow's infrastructure challenges. And, this celebration starts at home. So, I am officially thanking those at MacKay Sposito that have the drive and the enthusiasm to solve these infrastructure problems. I want to celebrate our team of innovators of technical artisans who make it look easy when it's clearly complicated.
We need more STEM learners and it must begin early, so let's make sure we are sharing our work challenges and solutions at home to our children and encouraging them to look at STEM a little differently. After all it really is where today's (and tomorrow's) cool kids are hanging out!