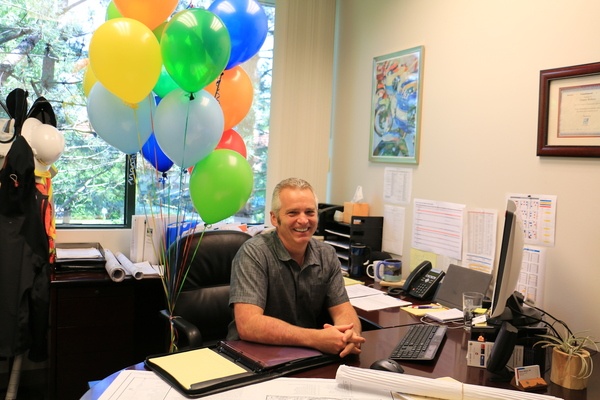 The average US employee changes jobs every 4.6 years, according to Marketwatch.
That's what makes someone like Damon Webster so special. On June 16th, Damon celebrated his 30th anniversary at MacKay Sposito. Talk about busting the bell curve!
Damon's MacKay Sposito story has an all-American flavor. He started as a teenager working part-time, running blueprints of survey drawings and design plans (too young to know what blueprints are? Learn more here). The smell of ammonia is forever seared into his olfactory receptors. After college he joined MacKay Sposito's engineering group full-time, working on hundreds (thousands?) of projects as he moved up the ranks, eventually becoming a partner in 2006.
One of Damon's greatest skills is his easy ability to connect with people. It's more than friendliness – it's genuine warmth. That skill was essential when he served as Director of Corporate Stewardship, a role best described as the "cultural ambassador" of MacKay Sposito, in which he led our community involvement initiatives, traveled to remote job sites to stay in touch with our field employees, and oversaw employee appreciation, among other duties.
Damon now serves as our Senior Engineer and leads our facilities asset management team, which serves organizations such as ports, school districts, property management companies, and homeowner associations that are responsible for maintaining stormwater facilities and other infrastructure.
Besides engineering, Damon's passions include the outdoors and very fast things. On any weekend you'll find him hiking, running, cycling, or opening up his Ducati on a closed-course track. He wears the scars of his adventures proudly.
Congratulations on 30 years, Damon! You're a big part of MacKay Sposito's DNA – we wouldn't be the same without you.