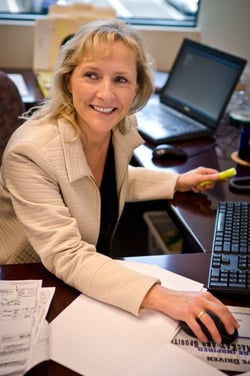 We've known for a long time that Carla Meritt, our Survey Director, is one of a kind. Apparently that's clear to her peers in the land surveying profession as well, because on Thursday, March 3rd, Carla was named Surveyor of the Year by the Land Surveyors' Association of Washington (LSAW).
The award is called Surveyor of the Year, but it is actually based on an individual's contributions over the course of his or her career. Considering all the outstanding surveyors in Washington State (many of whom call MacKay Sposito home), this award is incredibly meaningful.
Although she's very humble and will be embarrassed by the attention, we'd like to brag about Carla a little bit. Her commitment to furthering the land surveying profession is unmatched. Carla served as Washington's representative on the Western Federation of Professional Surveyors (WFPS) Board from 2012 to 2015. WFPS is a non-profit representing 13 states that provides education, regional coordination, and national advocacy for the profession. Carla is the current President-Elect of LSAW and in 2017 will become its first female President. She also invests in the future by teaching courses in surveying and geomatics at Clark College, something she has done for the past four years, and by serving on the Board and as the Treasurer of the LSAW Scholarship Foundation. Oh yeah, and somehow she finds time to lead our land surveying team at MacKay Sposito.
Carla was nominated by her peers in the Lower Columbia chapter, which demonstrates how respected she is within the industry. Throughout her career, Carla has been a visible, vocal, and active advocate of land surveying. She is a worthy winner, and being recognized in this fashion will only increase her motivation.
Congratulations Carla!