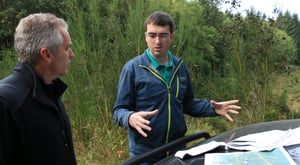 Last week Jenni and I joined forces to take a trip to Clatskanie, Oregon and check out an access road improvement project that Jon Fulton has been managing. It's a relatively small stretch of road across private property, but it's important to our client, and therefore, important to Jon and MSi. Due to limited parking at the project location, we met up with Jon in town and rode together over to the site. It was a short drive but allowed enough time for Jon to give us some background on the project, how it progressed through the design and permitting stages, and how the construction has been going.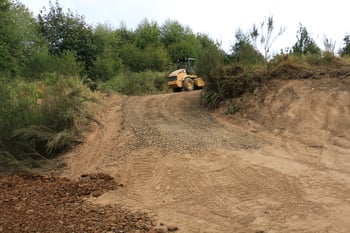 It quickly became clear to me that Jon was really on top of this job. He described how the project design plans for these types of projects often require some field adjustments to resolve a conflict. These can be something like addressing a drainage issue that isn't present now, but it's apparent to a trained eye where the water will flow once the winter rains come. Next Jon introduced us to the site contractor who was a one-man show alternating between operating a small track hoe, a grader, and a compactor. He was obviously quite skilled with all of them and it was interesting to watch him swiftly and smoothly spread dump truck loads of heavy base rock as if he was spreading out a small pile of sand with his hands.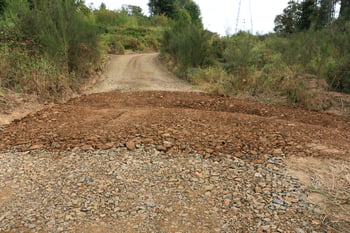 I was struck at how much this project was dependent on so few people. This could only work out well if these people were really good at what they do and had a well-rounded and deep practical knowledge of the project, construction practices and processes, and the technical requirements to get it all done right, the first time.
Kudos to Jon for his excellent work managing the project and building a solid working relationship with a great contractor to provide our client with a job very well done. You've got the touch.